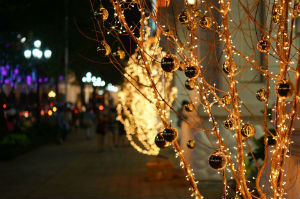 It's hard to deny that St. Augustine is a welcoming retreat to take at any time of year! As the oldest city in the country, St. Augustine offers visitors unparalleled historical sites, not to mention gorgeous beaches and a mild climate well into the chillier seasons. That is one of many reasons it's a favored spot for holiday travel. Check out the following events going on this holiday season to make your St. Augustine vacation a magical one!
St. Augustine's Nights of Lights Festival, Nov.22, 2014-Feb.1 2015
There's nothing that gets you in the holiday spirit quite like two months of 2 million Christmas lights! Chosen by National Geographic in 2011 & 2012 as one of the ten best holiday lighting displays in the world, this is an event you don't want to miss! Beginning annually on the Saturday before Thanksgiving with the "Night of Illumination," the Nights of Lights Festival kicks off as more than 2.5 million Christmas lights are set ablaze, making St. Augustine one of the most entrancing cities to visit during the holidays! Make sure to get to the Plaza by 6:30 to see the city transform, or visit the "Old City" any time during the holiday season to catch the impressive display of city-wide light! For more information, click: here.
12th annual Shut Up and Run 5K, Nov. 27
What better way to build up an appetite for turkey while raising money for a good cause than to participate in a Thanksgiving Day race? Beginning at 8a.m. at Treaty Park, this 5K, brought to you by the Ancient City Roadrunners, will benefit the St. Francis House Homeless Shelter in St. Augustine. For more information, click: here.
St. Augustine Lighthouse Luminary Night, Dec. 3
Stop by the St. Augustine Lighthouse during your December vacation to the city, and enjoy free admission from 6-9 p.m. There you will find a panoramic view of the illuminated city below from the very top of the lighthouse, accompanied by live Christmas music, including a string quartet right inside the lighthouse tower, children's holiday crafts, hot apple cider and much more! The lighthouse Luminary Night is a special event that everyone in the family can enjoy! For more information, click: here.
St. Augustine Orchestra Holiday Concert, Dec. 12
Enjoy a beautiful holiday tradition and experience the acclaimed annual holiday concert performed by the St. Augustine Orchestra. The night will include selections from the beloved Nutcracker, as well as a special performance of the Hallelujah Chorus from Messiah, sung by the St. Augustine High School Chorus. Held in the beautiful Lightner Museum, this holiday concert is sure to provide a magical night to get you in the holiday spirit! For more information, click: here.
Whether you're looking to participate in a good cause, enjoy holiday music, or see a world-renowned display of spectacular Christmas lights, a St. Augustine vacation might be just what you need to get in this season!