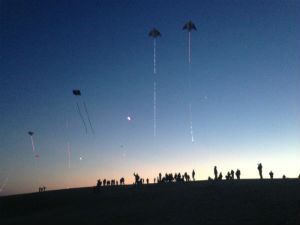 Holiday cheer and seasonal fun for the entire family abounds on the Outer Banks at this time of year. As an area already immersed in history and culture, the Outer Banks presents visitors with a one-of-a-kind holiday experience intertwining the past with the present, woven with a wild spirit native only to the Outer Banks. The beautiful landscape, delicious local restaurants, unique activities, and laid-back atmosphere make the OBX an enjoyable place to spend the holidays with your family. Check out some of these activities to get you in the holiday spirit and enjoy a seasonal getaway on the Outer Banks.
Kites with Lights
A beloved annual tradition here on the Outer Banks is Kitty Hawk Kites' annual Kites with Lights event! Not every year do you get to experience a Christmas extravaganza on the nation's tallest natural sand dune, but if you head to the Outer Banks this holiday season you can! Get the entire family up and out of your Outer Banks vacation rental and head to Jockey's Ridge State Park as the sun sets into the sound, turning visitors into silhouettes atop the dunes and beneath the dancing, illuminated kites. It's truly a spectacular sight to see. The kids love this event, as Santa always makes an appearance in hopes of trading his sleigh in for a hang glider. "Hang with Santa" and have the kids' pictures taken to remember the special evening. Kites with Lights will be held on November 29. For more information, click: here.
Festival of Trees
Come enjoy the Outer Banks in the off season and really get to feel what it's like to be a part of a small island community. The Festival of Trees, this year in its 26 season, is a holiday event that will welcome you like a local!  With a holiday bazaar, musical performances, children's activities, a holiday party for grown-ups, and much more, this weekend-long event is a must see during your holiday stay on the Outer Banks. The Festival of Trees will be held at the Outer Banks Brewing Station in Kill Devil Hills on December 13. More information can be found: here.
Roanoke Island Christmas Weekend
Roanoke Island Christmas Weekend takes place the first weekend in December and provides visitors the rare opportunity to get a glimpse at some of the remarkable historic homes and sites we have here on the Outer Banks, with proceeds supporting a good cause! Take the tour and get some inspiration for holiday decorating for your own home as you and your family explore some of the most unique homes on Roanoke Island. For more information, click: here.
With plenty of unique things to do and see for everyone in the family, and a beautiful island atmosphere in which to take it all in, an Outer Banks vacation this holiday season might be just the ticket for you!