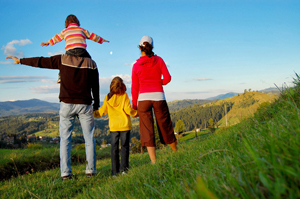 Deep Creek Lake is Maryland's largest inland body of water covering nearly 3,900 acres with a 69 mile shoreline. Fun fact, all lakes in Maryland are man-made. You may not know it, however, since Deep Creek Lake has taken on an eco-system of its own with freshwater fish, wildlife and outdoor enthusiasts. When is the best time to visit for your Deep Creek Lake vacation? How about Spring, Summer, Fall, and, Winter.
Whether it's for the day, a weekend or a week, Deep Creek Lake is located close to many cities in the central-east and has options for people wanting to just dip their toes in outdoor adventures, to weekend warriors, to weathered granola heads. Countless Deep Creek Lake rentals offer a central location so you can have access to it all.
Spring
Mountain biking: There are several options in the area for mountain biking and even more for road cycling. Hailed as one of the best single tracks in Garrett County, Margoff is a 5.5 mile loop with rolling hills. Another trail system with varying degrees of difficulty and maintained by Garrett Trails is Fork Run Trail System. This area offers 7 miles of wooded trails open from sunrise to sunset.
Horseback riding: Hire a guide to take you on a private and personalized trail riding experience along undeveloped mountain trails and into the woods.
Golfing: Want something a little more tame? Try golfing at one of these nearby courses.personalized trail riding experience along undeveloped mountain trails and into the woods.
-Thousand Acres Lakeside Golf Club
-Waterfront Greens Golf Course
Hiking: It's definitely a year-round adventure, but Spring and Fall are on the more mild side as far as weather goes. Kick aside those winter blues with a spring hike or peep some leaves in the fall. Either time is not too hot or too cold for a walk in the woods. For beginners wanting a several hour hike, try Meadow Mountain Trail. For more experienced hikers, try the quick Fire Tower Trail.
Summer
Kayaking: Ever see videos or photos of paddlers launching off waterfalls or 'playing' in water that most people panic when they're even close to? If you're 12 years of age or older, you can get a taste of those thrills in a controlled environment or in the wilderness with Adventure Sports Center International. They offer introductory paddling courses for beginners and private instructions for more advanced. In fact, the ASCI course was host to the 2014 World Canoe Slalom Championships.
Swimming: While the lake is on average 10-15 degree cooler than surroundings cities, temperature from June through August can still be warm enough to make a dip necessary. Most of the visitor services are located on the State Park Road which includes approximately 1 mile of shoreline. Tables, grills shelters and restrooms are available and lifeguards are on duty at the designated swimming areas from Memorial Day until Labor Day.
Boating: Bring your boat or rent one. Whether you're looking to relax on a pontoon or try wakeboarding or water skiing behind a motorboat, several local businesses have packages worth checking. You can even rent a jet ski.
Junior Ranger Program: Focused on Maryland and what makes the state unique, the six-session program explores the natural and historical features of the park. Ages 7-14. For more information, visit the Maryland State Department of Natural Resources.
Fall
Topwater fishing: Just after dawn, before the lake waters warm from the sun is the best time for topwater fishing on Deep Creek Lake. Bluegills, Yellow Perch, trout and bass. If you're planning to use the park boat ramp, be prepared to pay a small service charge.
SavageMan Triathlon Festival: Triathlete Magazine named it the hardest race on earth in 2010. Ready for a triathlon? We're not either. But the environment surrounding race day can be fun and contagious. Head out to cheer competitors on or start training now to join them September 19-20, 2015.
Geocaching: Using a GPS, a little imagination and some wilderness skills, your goal is to locate a 'cache,' usually found in a waterproof box. A cache could be hidden under a pile of leaves just off trail, or stuck in a tree far out of reach. ASCI has over 10 new caches for all skill levels.
Rock climbing: Primarily a sport climbing area, there are overhangs and most routes are from mid-5.11s. For more moderate routes, check out a section called Tea and Crumpets Wall. Climbing season ramps up beginning in mid-March and peaks in May before tapering off until late summer into late fall.
Winter
Snowboarding/Skiing: Wisp Resort offers a 700 foot vertical drop to shred. With 34 runs, the longest being 1.5 miles, they receive an average of 100 inches of snow each year. Can't make it to the Northeast or out West but have an itch that needs scratching, Wisp is right up your alley for a weekend getaway. Want to try something new? It's never too late to learn to ski or snowboard. Just remember to lean forward.
Snowshoe to Muddy Creek Waterfall: Beginning at nearby Swallow Falls State Park, you'll snowshoe 1.25 miles through a 300 year old Hemlock forest. Cutting through the silent trees in the stillness of winter, the snow creaking under your feet, you'll reach the state's highest waterfall that typically freezes in the winter, all 53 feet.
Dog sledding: A learning experience with a thrill, spend a few hours with a team of mushers learning about huskies, harnessing, and sledding. Then hold on as you'll be driven through winding hillside trails and through wooded forest logging trails and open pastures.
Cross Country (Nordic) Skiing: For $20 a lesson, you'll get a pair of skis and 90 minutes of instruction to send you on your way to experience a work out through nature. Be sure to bring a backpack because once you get going through Herrington Manor State Park, those layers will start coming off.
For more information about outdoor activities around Deep Creek Lake check out the Garrett County Adventure Guide (PDF). For trail guides, calendar of events and other resources can be found on Maryland Department of Natural Resources Website