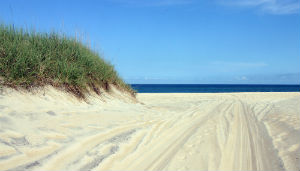 Corolla is well-known for its miles of wide and beautiful beaches.  As the northern most Outer Banks town, Corolla is an old village with a relaxed and low-key atmosphere where many vacationers desire to be when on summer vacation.  If you have never been to the Outer Banks or Corolla, there are so many fun things to do that summer vacation goes by very quickly with families beginning to plan for the next year.  Here are some fun things to do on vacation in Corolla:
Fishing.  For anglers who intend on spending time on the OBX, Corolla offers some of the best fishing on the barrier islands whether you want to spend some quiet time surf fishing on the beach and along the Currituck Sound or head out into the waters off the coast for more serious fishing.  Please note that recreational fishing requires a NC Recreational Fishing License for fishing along the beaches and a Freshwater Fishing License for fishing in the northern end of Currituck Sound.  Licenses are available at many shops in Corolla and online.  If you plan to fish on a pier or as part of a fishing charter, most have licenses that cover everyone fishing from these locations.
Wild Horse Tours.  The wild horses are something that you have to see to believe.  They have been here for hundreds of years and continue to be a part of the Outer Banks appeal.  Area companies offer wild horse tours so that you can see the horses up close and personal (kind of up close).  Some visitors to the Outer Banks choose to go it alone and walk along the beaches and dunes in Corolla in search of the horses.  If this is what you want to do, please note that it is important to keep at least 50 feet away from the horses so as not to spook them.  And, most importantly, please do not feed them.  They have been here for over 500 years and have survived on foods that are natural to the area – not apples and carrots.
Beach Fun.  Probably Corolla's biggest claim to fame is its beaches.  On these beaches, there are so many options for vacation fun.  Not only can you spend the day digging in the sand to create masterpiece sand castles or flying a spectacular kite high in the sky, there are tons of watersports for which the Corolla surf is absolutely ideal for surfing, wind surfing, wave boarding, jet skiing, kayaking and more.  Many of the Outer Banks beach homes for rent in Corolla come equipped with basic beach equipment to help make your vacation that much more fun.  For larger beach stuff like jet skis, there are several rental businesses in Corolla to provide you with the equipment you need.
Currituck Heritage Park.  Home to the three main tourist attractions in Corolla, Currituck Heritage Park is always a destination for vacationers on the Outer Banks.  Currituck Heritage Park is a 39-acre site that plays host to the Whalehead Club, Currituck Lighthouse, and the Outer Banks Center for Wildlife Education with plenty of wide open land to explore.  It is very easy to spend a whole day here climbing the lighthouse, touring the Whalehead Club and even hopping in a kayak for some paddling around the Currituck soundfront that lines the grounds of the park.
Shopping.  In addition to its unbelievable Outer Banks vacation rentals, Corolla is also well-known for its quaint and unique local shops in the business district instead of national and regional chain retailers.  Because most shops in Corolla shops are locally owned and operated, they offer an individual atmosphere and appeal.  On top of this, most of the shopping centers have other distractions for kids and those who do not want to shop.  At TimBuck II Village, there are water sports and even go-carts for Dad to occupy kids while Mom enjoys a little break.  Monteray Shores features a movie theatre and a climbing wall.  Lastly, there is a skate park at Corolla Light Town Center for kids to have some fun skate boarding or simply watching the really good skate boarders perform their tricks.
Some Suggestions: When preparing for your trip to Corolla, it is very helpful to talk with vacation rental consultants who can help you plan some outings for the week or at least offer some suggestions.  Even though you are planning to stay in Corolla, there is a long string of barrier islands with their own things to do many of which are well worth the time you spend in the car going there.  A great way to see everything is to plan stops along the way.
No matter what you do, you will have a wonderful week and begin planning next year's trip to the OBX well before ending this one!