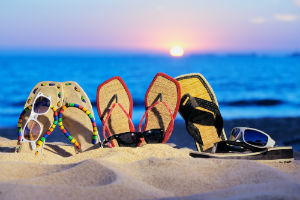 If you've never experienced a Thanksgiving on the Outer Banks, we highly recommend creating new traditions by bringing your family to the Outer Banks for the upcoming holiday! The peaceful landscape, mild climate, abundance of shopping, and awesome amenities to accommodate everyone in your family make an Outer Banks getaway a great way to spend your Thanksgiving holiday.  Check out these reasons why you should spend your Thanksgiving holiday with us here on the Outer Banks!
No Fighting for Couch Space or Room at the Adult Table
Maximize the comfort of your Thanksgiving celebration by staying in an Outer Banks vacation home. The entire family can easily fit in one house without having to share beds, sleep on the floor, or pull up a desk chair to the kiddie table to eat. Multiple rooms with plenty of sleeping space will come in handy for those post-turkey naps and the enormous living areas will allow for everyone to comfortably watch the big game together.
Keep the Whole Gang Happy and Occupied
With enough amenities in the average Outer Banks vacation home to keep everyone occupied for hours on end, there will be plenty of options to appeal to just about everyone's tastes. Game rooms with pool tables, children's rooms with bunk beds and plenty of space for board games and activities, multiple TV's for shared entertainment options, and hot tubs (which are available in many Outer Banks homes) are all perfect ways for the entire family to unwind and enjoy the holiday together.
Black Friday Christmas Shopping with Ease
With numerous shops to choose from on the Outer Banks, Black Friday never looked so good. During the holiday season, the beach is less crowded than usual, and therefore so are the stores, making Black Friday shopping a little more manageable than usual. Take advantage of the unique stores you can't find anywhere else and get some one-of-a-kind Christmas gifts out of the way for everyone on your list. Enjoy all of the shopping specials without the Black Friday shopping headache…now THAT'S a deal!
With a mild climate, even in late November, the Outer Banks offers holiday visitors the same breathtaking beauty that it does in the summertime: serene sunrises, stunning sunsets, and rejuvenating walks along the shore. Although we all love Grandma's house for the holidays, these are a few things you might not be able to experience there.
For all of the fishing lovers in the family, either amateur or professional, the Outer Banks boasts its most prolific fishing season during the fall months, making it a coveted destination for fishermen of all types. Bring your family to the Outer Banks for Thanksgiving and give the fishermen in your life the holiday getaway of their dreams.
Last But Not Least…Low Prices
With the crowds gone for the season, many vacation rental homes are vacant and owners are able to make better deals with renters because of the lower demand for their property. Use this to your advantage and check out some of the Outer Banks rentals that are offered at a lower cost for not only a memorable, but an affordable, getaway as well.
If you're not convinced by now that an Outer Banks getaway is the perfect way to spend your Thanksgiving holiday, you should be. Come enjoy a memorable extended weekend with the ones you love on the beautiful barrier islands and create a new tradition that everyone is sure to enjoy!