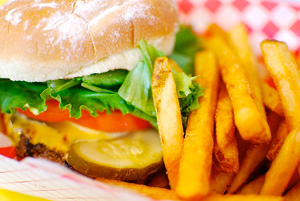 The Outer Banks is not just known for our sprawling sandy beaches, the one-of-a-kind wildlife experiences, or the historical landmarks, but for food, too…mmm. And not just seafood but all-American fare as well, and what is more American than a good old-fashioned hamburger? Below is a list, based on real customer experiences, of where you can find the tastiest burger on the Outer Banks. So no matter which of the Outer Banks Vacation Rentals you've decided to stay in this year, a great burger spot won't be far. Check out one of these places on your vacation:
#1: Art's Place in Kitty Hawk takes the cake! The local hangout was featured in Our State magazine's June 2011 issue naming it one of the best burger joints in North Carolina. Opened in 1978 by the late Art Glidden himself, Art's continues to be an Outer Banks treasure with its honest-to-goodness delicious homemade food and casual atmosphere. The half-pound burgers are hand-pattied and served up on a fluffy Kaiser roll with your choice of 6 different cheeses and all the fixin's. The burger-masters over at Art's are happy to create a unique combination for you and will happily build your beauty with anything available to them!  The mouth-watering creation goes perfectly with their homemade fries, which they hand-cut right in front of you. Don't let their "Locals Welcome, Tourists Tolerated" slogan scare you off…just behave.
During the summer Art's is open from 7a.m.-9p.m. except for Friday and Saturday, when they decide how late they want to keep it going. Off-season hours vary. Art's is located at 4624 Virginia Dare Trail, Kitty Hawk, NC 27949, otherwise known as MP 2.5 on The Beach Road.
#2: The Blue Moon Beach Grill in Nags Head offers outside-of-the-box cuisine, unique daily specials, and a Beach Burger that's a sure-bet crowd-pleaser. Using one third of a pound of prime Angus ground beef, the Beach Burgers are individually created and broiled over an open flame to your preference. The burgers are served on a toasted bun with lettuce, tomato and onion and your choice of 5 cheeses, including Blue Cheese. Add a fried egg, bacon, grilled mushrooms or onions, or blacken your beauty for a custom-built masterpiece. Wash it down with seasonally rotating taps or something from their impressive bottled-beer or wine collection.
Scott and Melissa Shields, who opened Blue Moon Grill in February 2009, provide a seamless experience between food and atmosphere that creates an enjoyable dining experience. Located at MP 13 in Surfside Plaza in Nags Head, the Blue Moon Beach Grill is another hot spot when vacationing on the Outer Banks.
#3: John's Drive-In the place to find the hands-down best milkshake on the beach, but we're talking burgers here, and what a perfect pair they make at this classic drive-in. John's traditional-style burger comes with a basic set-up: ketchup, mustard, pickle, lettuce, tomato and cheese, and tastes like burgers used to. If you're feeling a little more adventurous, choose from one of their specialty burgers like the Las Vegas Burger, complete with an onion ring, BBQ sauce, lettuce, tomato, mozzarella and pickle. Everything comes with crinkle fries, but if you want something a little more country, upgrade to fried okra instead! A simple, quick, inexpensive burger that won't disappoint! John's is located in Kitty Hawk at 3716 N. Virginia Dare Trail.
#4: Baldie's Burgers starts with thick, hand-rolled ground beef that is sure to satisfy your burger craving. Served in various sizes and at your desired temperature, Baldie's burgers come with crispy hand-cut fries served with the skin on. Their buttery, toasted hamburger buns barely fit the sizeable creations allowing for more burger flavor and less fluff. Established in Duck about 10 years ago, Baldies is a small dive with limited seating but a great place for a big juicy burger. Baldie's is Located at the Marketplace in Southern Shores at 5581 N. Croatan Hwy. in Kitty Hawk.
#5: Dune Burger in Nags Head is a fast-food style to-go stop that opened in the 1950's and has remained at the same Whalebone Junction location ever since. The burgers are nothing fancy but they keep customers coming back again and again as a must-stop on their vacation list. It's a blast from the past walk-up burger joint where customers can grab a simple, inexpensive junior, single, or double burger and post up on one of the outdoor picnic tables. Dune Burger is located at 7305 South Virginia Dare Trail.
Whether you're looking for a hidden local spot, an in-and-out dive, a classic drive in, or a contemporary sit-down restaurant, there is a great burger to be found in your ideal eatery during your Outer Banks vacation.