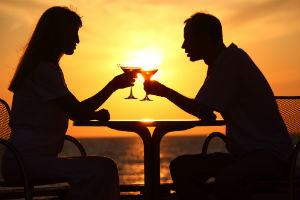 Known for its laid back attitude and rocking good times, Carolina Beach offers plenty of spots to turn an ordinary night into a date night full of laughs, great food, and live entertainment. The following are 4 of the best places to visit, from pub-style to fine-dining and everything in between, when hitting the town in Carolina Beach:
HopLite Pub and Beer GardenFor an upbeat good time, check out HopLite Pub and Beer Garden if you're heading out on a date in Carolina Beach. If you're looking to share laughs and a couple of cold ones with someone special, HopLite will deliver. This traditional-style pub fosters a friendly, relaxed environment that emits a good vibe throughout. Daily specials and live local music every Friday and Saturday night keep the HopLite bustling. With appetizers, sandwiches, and entrees that mirror your typical Irish Pub, HopLite also incorporates their own specialties, including shrimp & grits and lamb burgers, and features a packed wine list. For more information, click: here.
Havana's Fresh Island Restaurant
Set in an old 1916 beach cottage, Havana's is the perfect choice for more of a romantic night out for two in Carolina Beach. The attention to detail is apparent, from the low lighting and soft music, down to the plate presentation. Known for their seafood, Havana's offers unique specials options, an extensive wine list and the perfect ambience for an intimate one-on-one conversation over dinner. Open year round, join the locals at one of the most popular spots in town, no matter what season you are visiting Carolina Beach. For more information, click: here.
Surf House
For a fun, casual date night, check out Surf House Café and Shop. The frequently-changing menu delivers customers with a seasonal selection of local seafood, taking pride in fresh, healthy ingredients. The laid back, oyster bar atmosphere delivers it as a fun date night spot for a less uptight, more carefree style of evening. Known for their one-of-a-kind hot chocolate and sweet treats, finish off the night with something indulgent. For more information, click: here.
Gibby's Dock and Dine
Located on the Intracoastal Waterway, Gibby's Dock and Dine provides a beautiful outdoor water view in a casual, friendly environment…the perfect place for a laid back Carolina Beach date night. This is the  only restaurant in Carolina Beach that serves all three meals of the day dockside, it's the perfect spot for couples looking to spend some time on the water enjoying a meal and drinks, or if you're coming in by boat, just pull up to the dock and dine! Live entertainment and tropical drinks make it a happening nightlife spot. For more information, click: here.
Next time you're enjoying a Carolina Beach vacation and are ready to hit the town with that special someone, check out one of these places and create a memorable date night on the North Carolina coast.